I am probably a significant minority in my taste in pets, but I have and adore pet rats... sadly, there just arent really any particularly enthralling rodent pieces out there... trollbeads would melt my heart if they made a lock shaped like a wee rat! It would be perfect: the tail could curl to make one of the claps, and they could put little teeny red gems in the eyes!
Sounds like a fab people's bead entry for the next competition! Designers have been moving into the realms of spiders, ants and flies recently ~ now I know you don't put your precious ratties in the same category
and I know rats make wonderful pets, but the vermin kind are in the same vein so you never know, they may venture into rodent designs
(I won't be getting one though as I have a funny phobia about their tails, they seem to have a life of their own and make me go funny
). Do you have the retired Elf with the little rat on his back? (I love that bead if I don't look at the tail draped round
)

splinty

Admin




Posts

: 3852


Join date

: 2011-01-12


Location

: UK



I just got into trollbeads about a month ago (and already have two bracelets! eep!) so I dont know a lot about all the events and contests and all that...do you know the name of this competition so I can google it?

I had not heard about this elf with the pet rat! I am going to go hunting now!
I would buy one
we have a gorgeous girl brown rat, Lily, sadly her friend died last year but Lily lives on
Have you a picture of your furry friends?
Last edited by Rogotroll on Sat Jun 30, 2012 6:25 pm; edited 1 time in total (Reason for editing : added a bit)

Rogotroll

Trolladdict





Posts

: 915


Join date

: 2011-01-30




Brightonbelle

Beadaddict




Posts

: 11405


Join date

: 2011-02-21


Location

: UK



this would be adorable! I would get one!
Rogotroll wrote:Have you a picture of your furry friends?
oh sheesh don't get me started on my boys. They are my boyfriends
I mean, look at these hunka hunka burnin loves: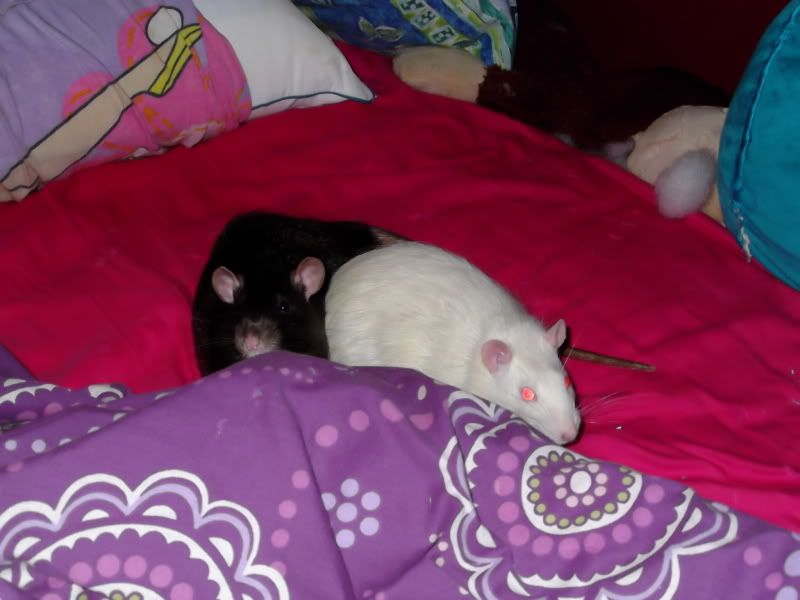 Just snapped this pic for you to see them
Puddin is the Berkshire and Cracka is the PEW
I am like an obsessive soccer mom with my rats... I could go on all day about how wonderful they are lol
Your boys are gorgeous.
I wonder what they would make of Lily? Here she is dressed up last Xmas

Rogotroll

Trolladdict





Posts

: 915


Join date

: 2011-01-30



lol they have never met a pretty little doe before, so I suspect they'd be smitten and it would devolve into one of those romantic comedies where the two best friends compete bitterly for the affections of a lady who in the end didnt really care for either of them
She has such a cute expressive face! Is she a beige? I am so impressed she is sitting in that tree so nice (my current boys are extremely nervous for some reason, and I dont think they would handle being in a tree very well lolol)
I have heard that they are super intelligent and very funny. There was something on AOL recently about a researcher that proved rats actually laugh when you tickle their bellies! I just love that.

PansyCat

Trollmeister





Posts

: 385


Join date

: 2011-01-26


Location

: Pittsburgh, PA



Similar topics
---
Permissions in this forum:
You
cannot
reply to topics in this forum