When I got my lovely coiling
dragon
, I really didn't expect to start an entire
dragon
bracelet. But he had other plans.

He's slowly been whispering in my ear about the beads he'd like on his bracelet.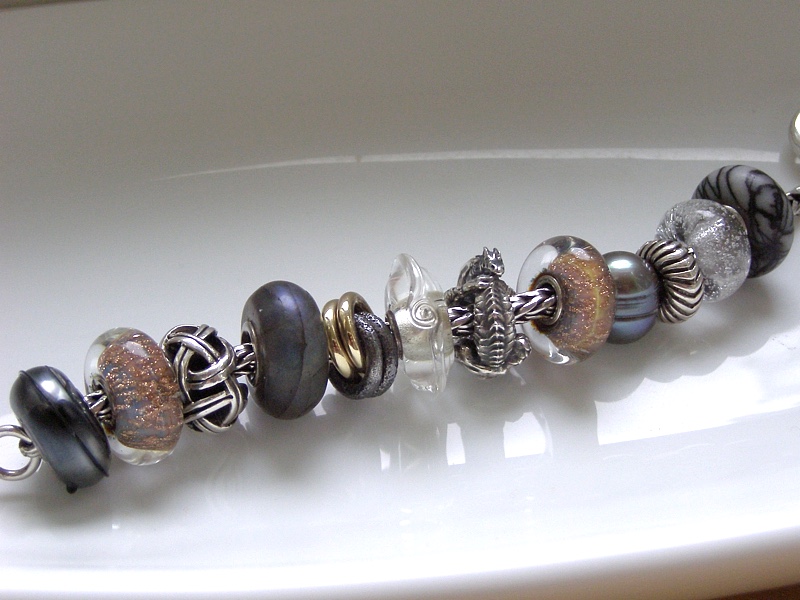 I plan on getting the Faerybeads Vertebrae and probably the Ohm crown of thorns. I was thinking maybe a stormy Azure Bubbles if I could find one. But the rest of the beads for his bracelet are still up in the air.
Another beautiful creation
and I can see that he still holds on to the 2+2


Trollperle

BeadWrangler




Posts

: 6137


Join date

: 2011-03-02


Location

: Germany



Thank you - and yes, he's definitely not letting go of the 2+2

Love what you have made so far


Cloverbead

Troll Guru




Posts

: 2649


Join date

: 2012-12-27


Location

: Cambridge, UK



looks very classy to me! 2+2 is made for the
dragon
and so are the other older TB's, your
dragon
has real good taste!


Catsworld

Troll Guru




Posts

: 6147


Join date

: 2011-01-27


Location

: Switzerland



Thank you Cloverbead and Catsworld

I originally thought maybe I would look for a magical lantern but I don't know that it's the right tone now that I seem to have gone down a more blue tone path. I'm trying not to force it too much; I find my best combinations kind of make themselves

We have very similar tastes, me and your lovely coiling
dragon
, I love every one of his picks


(he might like to know that there are magical lamps around with splashes of blue as well as golden fire that work lovely with blue deserts, in case he wants to send you on a hunt for one

)

splinty

Admin




Posts

: 3852


Join date

: 2011-01-12


Location

: UK



Your
dragon
have matched the beads very clever

I hope some day I'll get Coiling
dragon
and I want he will be telling me about some beads he would like to be with -- as yours one


Arineso

Trollbaby





Posts

: 180


Join date

: 2015-02-23



Your Coiling
Dragon
has very good taste, I love the way his bracelet is evolving 


Fuzzyfeet

Troll Guru




Posts

: 6816


Join date

: 2011-01-31


Location

: Wild Windy Wiltshire (UK)



I'd keep listening to him

As others have stated, he has very good taste! Plus you probably don't want to be arguing with a
dragon

Beady-Eyed

Trolladdict





Posts

: 1284


Join date

: 2011-02-26


Location

: western U.S.



Dragons know their treasures.

Love your bracelet!
Thank you everyone

Splinty, I have seen one with more blue tones, I just wasn't sure how common they were. My LD only has one, and it is definitely brown. But, dragons and quests do go together, so I guess he may send me on one to find a blue-toned one!

Thankfully, he hasn't requested that I buy any other new ones yet - all of the current beads he's found in my bead box - so he is a very considerate
dragon
in that respect.
And you are right, Beady-eyed, you don't want to be arguing with a
dragon
!

Looks like a great combo!!  You and your dragon have done very well!

kyhalfpt

Troll Guru




Posts

: 3411


Join date

: 2013-02-16


Location

: NJ



---
Permissions in this forum:
You
cannot
reply to topics in this forum